Wacky Yet Professional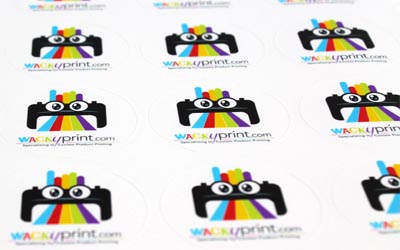 To get to really know Wacky Print, you must first know where it derived from. It's roots. Where the true passion all began...

Our parent company Wacky Buttons, Inc. has been in business for over 15 years. We specialize in making custom button products for low prices with super quick turnaround. We love making quality buttons and we have a reputation for doing it well. We have thousands upon thousands of happy customers that can attest to that. Head to www.wackybuttons.com to learn more about the products we started with and what we can do for you.

The real reason to launching Wacky Print though is that so many customers have asked us, "Are there any other things you sell besides buttons?". We heard the question over and over again. People who have ordered from us wanted more from us. We have been told by so many customers that they wished other companies they ordered custom products from operated like we did. So that was it. It was simple. The desire was there and we enjoy making our customers happy. So we started a partner company with the same founding principles: No minimum order quantity, fast turnaround, and we help you design for free. All we needed was some specialty printing capabilities that few companies out there are taking advantage of. We learned we can be a good at what we do with patience and choosing products we can make well. We didn't want to become another all-encompassing promotional products company like so many in the market that send orders off to other factories to make. So we did some brainstorming, fun research, played around with a lot of different ideas, and then targeted 5 great products that have left us super excited to share with you all!

So we decided to start with: Sticker sheets, Fridge Magnets, Mobile Phone Stands, Adjustable Wristbands, and Claw Bottle Openers! They're all unique, customizable, and certain to make an impact however you will be using them for. We hope you love them as much as we do.

Welcome to Wacky Print!
---
What We Are Known For
No strings attached ordering. You design your products first then pay on your convenience. Our order process is a little different than other companies who have you submit your artwork and make you pay for your whole order at the same time. At Wacky Print you can create as many designs you want for FREE and then decide later what you want to buy.
We offer fast turnaround time. It is possible for us to ship an order the same day we receive it. We also offer UPS Next Day Air and USPS Express Shipping, So you are able to receive an order the very next business day from when you purchase (usually valid for orders of 1000 or less and you should call us to order by phone if you need it that fast).
Our prices are easy to understand. You pay for the cost of the product and shipping, nothing else. A lot of our competitors charge for artwork setup and rush processing which can add up. We do not charge for either.
We offer the option of doing artwork for you FREE of charge and we can send you different designs to choose from. Our artists have the capability to work with you personally until you are ready to order.
Our online design studio lets you design and order quickly. Maybe you do not have time to talk to an artist. It allows you to design on your convenience. You could design your stickers, for example, online in the middle of the night, pay online, and then your order ships out the following morning (for 500 stickers or less).
We have no minimum or any quantity restriction. You can order just 1 item. You can order 576 if you'd like. Get any number you want. We'll get them to you as fast as possible.
Wacky Print has Immediate and informative customer service. We are here to answer the phone from 9:00 AM - 5:00 PM, Monday - Friday, Eastern Standard Time. Emails are responded to within a couple hours while we are open. If we are closed, you will be contacted the very next business day.
One of the coolest things we do is send you a realistic preview of your design via email. This mockup we send you prior to ordering, provides a really good idea of how your actual Wacky Print product will look.
Our Design Code process is the easiest to use so no orders get messed up. Also your artwork is kept on file so you will never be asked to send your design again. Wacky Print allows you to order with your Design Code any time in the future.